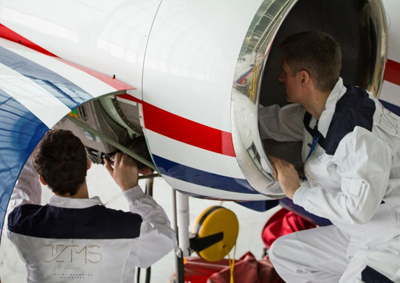 Jet Maintenance Solutions (JET MS), a global provider of tailor-made MRO services for business and regional aviation, which formerly operated under FL Technics Jets brand, has announced receiving a new Bombardier Challenger 604/605 certificate which further extends its EASA Part-145 services. In addition, JET MS has already welcomed the first two Challenger 605 aircraft at its maintenance centre in Vilnius, Lithuania.
In compliance with the received certificate, JET MS will support the owners and operators of Bombardier Challenger 604/605 jets with all-round services including but not limited to all scheduled maintenance tasks, AOG support, material management, landing gear restoration as well as corrosion and structural repairs at the company's Vilnius-based service centre or any other location of client's choice worldwide. 
JET MS is already supporting a number of European business jet operators, the fleets of which include Challenger 604/605 aircraft. As a result, the company is happy to expand their capability list and be able to service a larger portion of their current customer fleet and at the same time – break ground for new business opportunities.
"Currently, there are about 190 Bombardier Challenger 604/605 aircraft in-service. These business jets are operated by nearly 50 carriers from Europe, Russia & the CIS, the Middle East and North Africa. Some of those operators are already amongst our customers who have previously entrusted our highly skilled engineers with the maintenance of their other aircraft types. By adding Bombardier Challenger 604/605 to our EASA Part-145 capabilities, we aim at enhancing the support we currently provide to our existing clients as well as attract new customers from Europe and other regions," comments Darius Saluga, the CEO at JET MS. "And we are certainly glad to welcome our first two Challenger 605s just within days after the receipt of the certificate. This proves both the market's demand and trust in our MRO products."