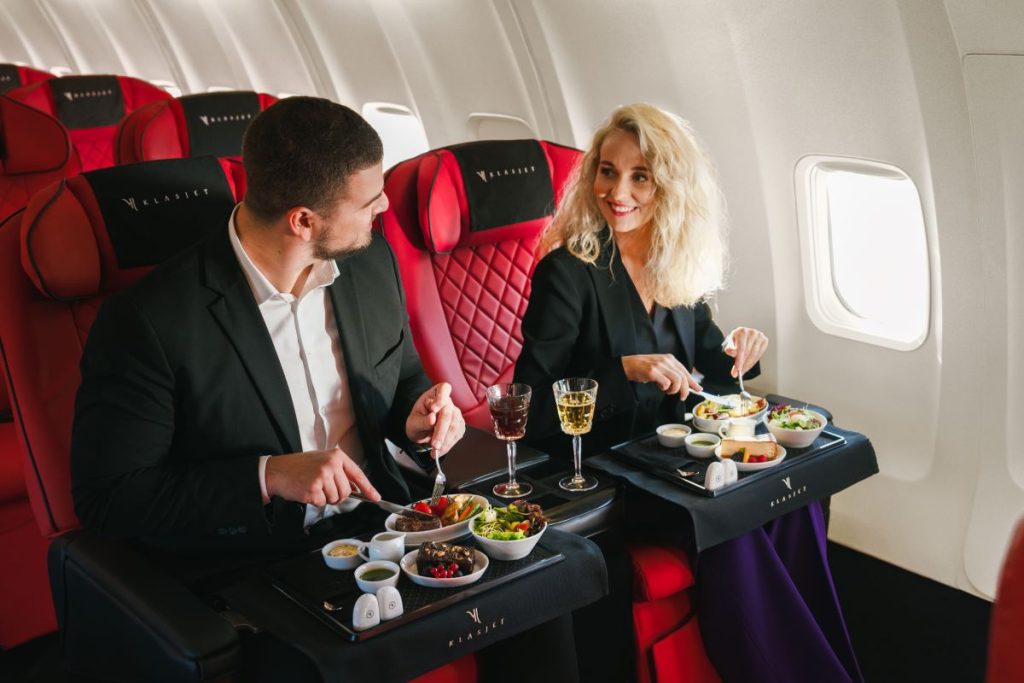 For many, the prospect of travelling for work is an exciting possibility. The idea of visiting exotic locations, interacting with a diverse array of people, and experiencing a fast-paced and dynamic work environment is a major draw for those considering a cabin crew career. However, it is important to recognise that a career as a cabin crew member involves much more than just these exciting aspects. The role demands a high level of responsibility, keen attention to detail, and a steadfast commitment to safety.
An exciting and challenging career
"Being a cabin crew member may not be easy, but it is an incredibly rewarding and thrilling career," says Loreta Krupenkiniene, Head of Cabin Crew at KlasJet, a private VIP charter and ACMI airline. With over 20 years of experience in the field, Loreta has been a part of hundreds of flights and still cherishes her chosen profession. "Working for a private VIP charter airline has given me the opportunity to see the world and truly appreciate the beauty and possibilities of this job. My first flight took me to Mauritania in Africa, and since then I have been able to visit new countries and immerse myself in diverse cultures and customs. It is for these reasons that I couldn't imagine a better career for myself."
Loreta believes that working as a cabin crew member is an ideal choice for individuals who thrive in a non-monotonous environment, enjoy meeting and working with different people, and possess the ability to remain calm and quick-thinking under pressure. "No two flights are the same, and each presents its own unique challenges, ranging from handling medical emergencies to basic customer service. As a cabin crew member, it is imperative to be always ready to assist in any situation and possess a strong sense of responsibility and the ability to manage stressful situations," she says.
Becoming a cabin crew member
According to Loreta, becoming an exceptional cabin crew member is a process that requires extensive training. "Our cabin crew undergoes a wide range of training to prepare them for any situation they may encounter on board," she explains. "In addition to the mandatory training on safety procedures, emergency response, first aid, and passenger service, VIP cabin crew members receive additional training in areas such as human psychology, fine dining and sommelier courses, cultural differences, protocol-related behaviour, and professional presentation."
Loreta emphasises that becoming a VIP cabin crew member and going through this comprehensive training not only enables the team to perform their duties professionally but also enriches their personal lives and skills. "The training provides a well-rounded and in-depth education, which benefits not only their work performance but also their personal development," she adds.
A Day in the Life of a Cabin Crew Member
Loreta Krupenkiniene highlights the importance of preparation for each flight. "While the preparation for each flight may vary, it always starts well before take-off," she explains. "We receive flight information a day or two in advance, which gives us ample time to familiarise ourselves with the details and review procedures."
She also mentions the importance of a pre-flight mental checklist. "This might seem trivial but going through a mental checklist helps me ensure that I have all the necessary documents and items and that I am presentable for the flight," she says.
Before embarking on the flight, the cabin crew undergoes detailed briefings to ensure they have all the necessary information. Loreta says, "We receive a comprehensive overview of the flight, including information on flight time, weather conditions, potential turbulence, safety protocols and procedures for handling any unexpected situations. We also review the in-flight service, covering every aspect from passengers' meal preferences, dietary restrictions, and allergies to accommodating passengers' needs." These briefings play a crucial role in ensuring the flight runs smoothly and that the cabin crew is well-prepared to attend to any needs or requirements of the passengers.
Loreta shares that during the flight, they are responsible for ensuring the safety and well-being of each passenger. "Our aim is to be present when passengers need us, but also to blend into the background when they wish to be left alone," she says. "Throughout the flight, we attend to passengers' needs by providing catering, beverages, and entertainment tailored to each flight's specific requirements. And in case of any emergencies or unexpected issues, we are trained and equipped to handle them efficiently and effectively."
Working for a growing airline
According to Loreta Krupenkiniene, working for a growing VIP charter airline like KlasJet has numerous benefits. "Our team operates as a tight-knit community, built on trust and mutual respect. The happiness and well-being of our colleagues is a top priority, fostering an open and supportive work environment," says Loreta. "Having worked at KlasJet for 6 years, I have come to appreciate the strong bonds within the team, the growth opportunities, and the exciting challenges that this airline presents."
While discovering one's passion may not be a straightforward task, for those seeking excitement and ample opportunities for personal development, a career as a cabin crew member could be the ideal choice both for those entering the job market as well as seasoned professionals.