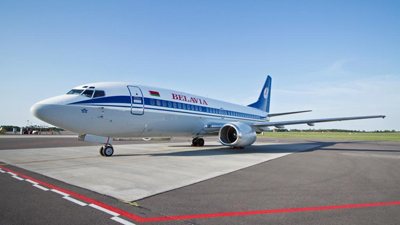 AviaAM Leasing, a WSE listed global aviation holding company engaged in commercial aircraft acquisition, leasing and sales, is further developing its cooperation with major air carriers from the CIS region, by signing an aircraft leasing agreement with Belavia. Under the latest contract, AviaAM Leasing has already delivered a Boeing 737-300 aircraft to the Belarusian flag carrier's base at Minsk National Airport.
The Boeing 737-300 aircraft, powered by two CFM56-3B2 engines, is already the second AviaAM Leasing's aircraft in the Belavia's fleet. Prior to the delivery, AviaAM Leasing has conducted a wide range of maintenance works, including C-Check, livery change and cabin refurbishment, in order for the aircraft to fully meet the carrier's requirements and brand. Belavia will be operating the Boeing 737-300 aircraft under a 5-year long operating lease. 
AviaAM Leasing is proud to expand its cooperation with the carrier and to support its dynamic development. Belavia Belarusian Airlines, operating under the Belavia brand, is the flag carrier of Belarus with its main hub at Minsk National Airport (MSQ). Currently Belavia's fleet consists of twenty four narrow-body and regional aircraft, including Boeing 737s, CRJ 100/200s, Embraer 175s, Embraer 195s and TU-154 M aircraft, operating to/from over 30 airports across Europe, the CIS and the Middle East.