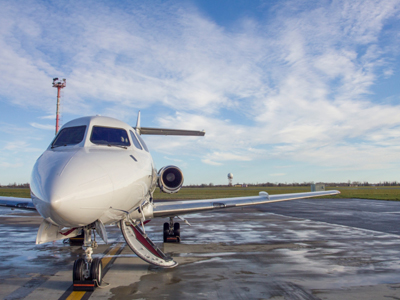 FL Technics Jets, a global provider of tailor-made maintenance, repair and overhaul services for business aviation, is delighted to announce that recently it has provided comprehensive Hawker aircraft base maintenance support to its latest customer Grafair, a Swedish business jet and FBO operator. 
The agreement with the Swedish carrier was signed in the beginning of 2015. Since then, FL Technics Jets has already provided the first set of MRO works on the Grafair's Hawker 800XP business jet. The agreed upon service package comprised such maintenance works as a  12 Months' Check of engines, APUs and other aircraft systems as well as defect rectification and other. All services were provided in the FL Technics Jets own MRO centre in Vilnius, Lithuania. Following the successful completion of the aforementioned works, the Grafair's aircraft has returned to its base at Stockholm-Bromma Airport in Sweden. Additional scheduled maintenance works on the aircraft are to be conducted later this year.
"It's a real pleasure to support Grafair, one of the most prominent business aviation players in Europe, with our services. The fact that the Swedish carrier has placed its trust in our company and has since expressed full satisfaction with our services explicitly speak for the quality and reliability of our business aviation MRO solutions," comments Darius Saluga, the CEO of FL Technics Jets. "We are proud to add Grafair to the map of our customers worldwide, and look forward to expanding our cooperation in the future."
Grafair is a Stockholm-based international aviation company engaged in business, air ambulance and air taxi charter flights as well as Fixed-Base Operations (FBO). The company operates Cessna and Hawker aircraft. In 2014 European Business Air News (EBAN) awarded the company as the best FBO in Europe, Russia, the Middle East and Africa.