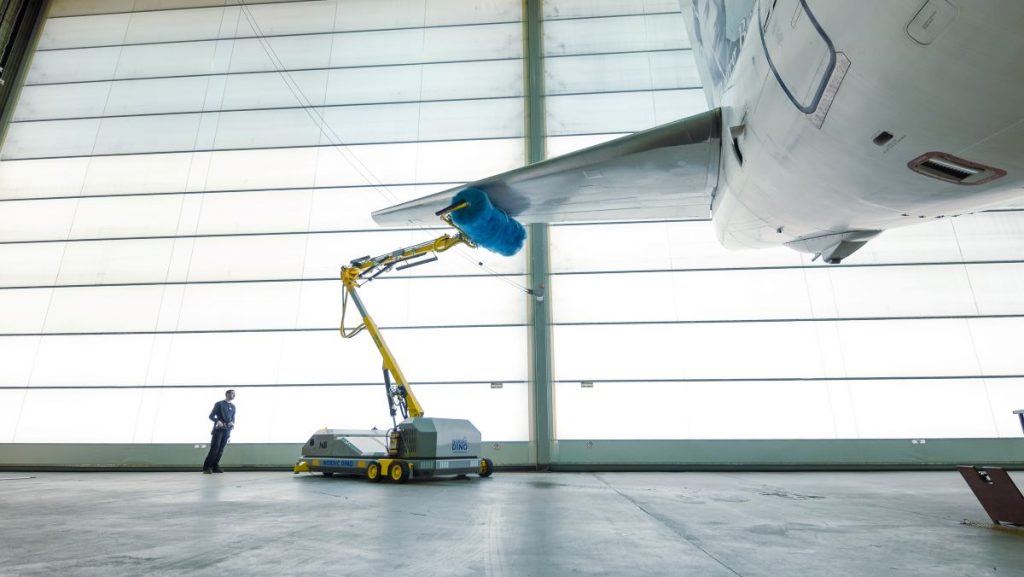 Aircraft washing is an essential task that needs to be carried out regularly to save fuel, ensure its safe operation and maintain the appearance of the aircraft . However, manual aircraft washing is not only challenging and time-consuming but also poses significant safety risks to workers. Fortunately, according to Nordic Dino Robotics AB, the company behind the innovative Nordic Dino system for cleaning aircraft exteriors, there are ways to eliminate these safety issues with the help of aircraft exterior cleaning robots, resulting in a safer and more efficient washing process.
Manual aircraft washing often requires the use of additional equipment like scissor lifts and scaffolding, which can pose significant safety risks. "Workers can fall and suffer serious injuries while working at height. Furthermore, the use of scaffolding also necessitates additional safety requirements, such as fall protection equipment, which adds to the cost and complexity of the cleaning process," explains Jo Alex Tanem, the CEO of Nordic Dino Robotics AB. "However, aircraft cleaning robots can address all of these safety issues by allowing cleaning from the ground at a distance, providing a safer and more efficient alternative."
Moreover, the aircraft exterior cleaning robot is equipped with sensor bars that automatically turn off the robot if it comes into contact with the fuselage. "Any damage to the fuselage of the aircraft can jeopardise its airworthiness, thus having this feature ensures that the robot is safe to use and prevents any potential damage to the aircraft," he shares.
Aircraft exterior cleaning is a mandatory step in aircraft care and maintenance, making it necessary to ensure the safety of those performing this task and prevent any potential damage to the aircraft. "Using aircraft cleaning robots eliminates many risks that are simply impossible to avoid when performing washing manually. Using advanced technologies not only reduces potential liabilities but also saves airlines time on the ground, man-hours, and costs," explains Jo Alex Tanem.