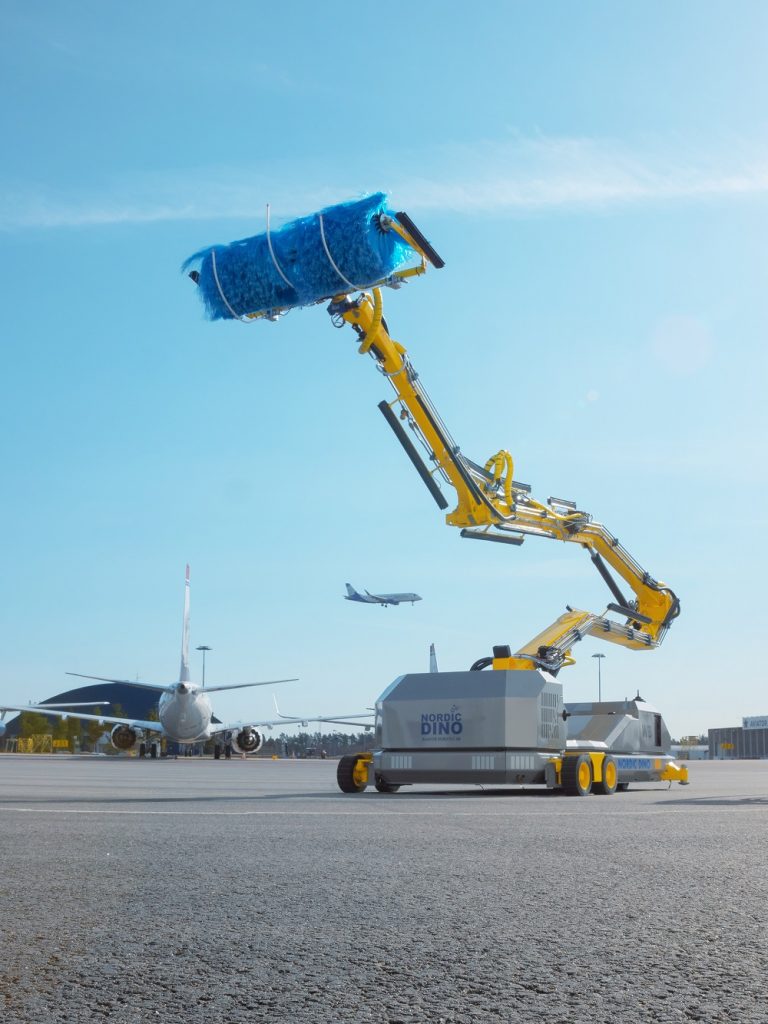 Coming out of the pandemic, the aviation industry has been facing tough challenges. Slower than anticipated recovery has made numerous businesses continue operating in a survival mode, while stronger regulations for sustainability are changing long-established processes. While achieving sustainability in certain areas of aviation can take longer, aircraft exterior cleaning, on the other hand, is ready to offer such solutions to ground handling, maintenance, repair, and overhaul (MRO) service providers and airlines.
What has been regarded as a standard for years, the traditional way of cleaning aircraft used up hundreds of litres of water, massive amounts of chemical cleaning liquids, large equipment, a lot of manpower and aircraft downtime. With the industry searching for innovation and more sustainable ways of washing aircraft exterior while saving time and hands needed, Jan Brunstedt, CEO of Nordic Dino Robotics AB and the creator of Nordic Dino, the leading aircraft exterior cleaning robot, says that semi-automatic exterior cleaning robots are the alternative MROs and airlines looking for.
"The industry is frantically looking for the 'perfect solution' so to speak. The post-pandemic period hasn't been kind to many and the interest in finding innovative, eco-friendly solutions is very high. That's why lots of ground handling service providers, MROs and even airlines are taking part in a number of expos this year, like the GSE Expo Europe in Paris, for example. They're searching for options that would tick all the necessary boxes. For the sustainable aircraft exterior cleaning conundrum, semi-automatic cleaning robots could be the answer they're looking for."
Semi-automatic cleaning robots, according to Brunstedt, heavily reduce not only manual work needed to properly wash the aircraft – together eliminating the possibility for human error – but also the aircraft downtime, which is a key moment for MROs and airlines that are striving for speedier industry recovery.
"We see that the interest in semi-automatic solutions is growing," notes Brunstedt. "Especially now, when sustainability is playing such a major role in shaping aviation in general. We have also taken a step further with the semi-automatic washing robots ourselves and will be launching the 2nd generation electric robot at the GSE Europe Expo with a full demo as well. The need for greener solutions is higher than ever and making such solutions available is our top priority."
The new electric semi-automatic washing robot boasts simplified design and components, introducing one versatile chassis for all three aircraft body types – narrow-body (NB), wide-body (WB) and extra wide-body (XWB). The new version also has CAN bus electronic control systems with built-in and enhanced safety features, simplified electronic and hydraulic systems, option for remote access to CAN bus system data, improved access to major components for easier maintenance, as well as enhanced user experience with new generation wireless portable control module and improved operating envelope. The working capacity of the electric robot pushes 4-5 hours without additional charging – enough for a one night's operations.
"Our hope is to offer that 'perfect solution' MROs, ground handlers and airlines are looking for, helping them introduce more sustainability to the aircraft maintenance processes like fuselage washing. Seeking innovation and offering cutting-edge solutions should be at the forefront for aviation in order to reach the set goals for reducing the carbo footprint."