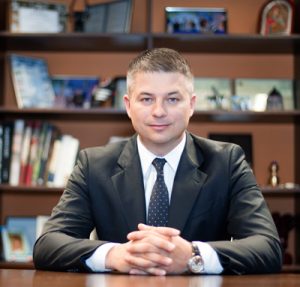 The holding company run by entrepreneur Gediminas Ziemelis ZIA valda, which has been operating for over two decades, is rebranding to Vertas Management.
In 2018, the consolidated revenues of the managed companies exceeded 503 million euros. Vertas Management is undergoing an intensive global expansion, uniting over five thousand employees and 17 companies in various business segments.
Vertas Management is a group of business management professionals, who understand both global business challenges and the peculiarities of the managed companies. The aim of the company is to invest in businesses with a big potential and create added value for shareholders and all stakeholders involved in these businesses: the employees, suppliers, customers, partners, and the state.
Vertas Management applies active ownership approach, with emphasis on the following measures and principles:  efficient organizational structure, clear and attainable objective, comprehensive standardization, internationalization through increased sales and acquisitions.
"The experience gained in business management over two decades has enabled our team to make strategic decisions on business acquisition and development. We have chosen a name with an international sound that can also be understood in Lithuanian. Creating the value – this is what the team of Vertas Management does," says Mindaugas Rutkauskas, the CEO at Vertas Management.
Currently, "Vertas Management" manages 17 companies in eight business areas. They include:
aviation services: Avia Solutions Group,
aircraft lease and trade: AviaAM Leasing,
real estate: VA Reals, business centers in Lithuania and Cyprus
luxury furniture and interior solutions manufacturing and installation: Fitsout,
distributor and producer of pharmaceutical products: Pharnasanta group,
passenger's rights and claim compensation platform: Skycop.
"We are rebranding and updating our development strategy and keeping our core values. Lithuania has been and will always be our center of excellence, the best professionals and strategists in their field work here. We will continue to cherish what is important to us and we will strive to improve our results," adds M. Rutkauskas, the CEO.