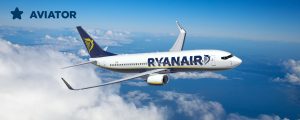 Aviator Airport Alliance, a full-range provider of aviation services at 15 airports across the Nordics and Irish low-cost carrier Ryanair, one of Aviator Airport Alliance's most prestigious clients, announced the expansion of their strategic collaboration across multiple important bases. The expanded arrangement is effective until October 2027 and applies to all Aviator-operated stations, including Arlanda (ARN), Malmö (MMX), Copenhagen (CPH), and Helsinki (HEL). This extension reinforces Aviator's commitment to providing first-rate ground handling and de-icing services.
Jo Alex Tanem, CEO of Aviator Airport Alliance, shared his enthusiasm about the extension, stating, "We are incredibly proud to continue our collaboration with Ryanair, a relationship that spans many years. This partnership showcases our commitment to delivering world-class ground handling and de-icing solutions that meet and exceed the industry's highest standards."
The partnership between Aviator and Ryanair has grown every year along with operational efficiency. The partnership at Malmö has expanded since 2000, highlighting the ongoing nature of Aviator and Ryanair's collaboration in delivering high-quality services. The collaboration in Copenhagen started in 2015, and it now oversees more than 6,000 departures each year. In 2020, Aviator's commitment to excellence was demonstrated by the efficient ground handling and de-icing services in Helsinki. Meanwhile, the partnership at Arlanda, which began in 2021, has since grown to manage more than 7,000 departures annually.
Additionally, Aviator continues its Ground Support worldwide target for net-zero emissions. In Sweden, Aviator has made strong progress in transitioning to electric GSE, with the current proportion standing at 65% and continuing to increase annually. Furthermore, Aviator at Malmö Airport has been fossil fuel-free and using only hydrotreated vegetable oil (HVO) fuels since 2021 and Aviator at Gothenburg-Landvetter Airport joined the fossil-free list at the start of 2023, while Aviator Arlanda Airport, currently at 85%, is on track to be fully fossil-free latest by the end of 2024.
Aviator Airport Alliance is part of Avia Solutions Group, the world's largest ACMI (aircraft, crew, maintenance, and insurance) provider with a fleet of 192, aircraft operating on all continents in the world. The group also provides various aviation services such as MRO, pilots and crew training, ground handling, and other interconnected solutions.