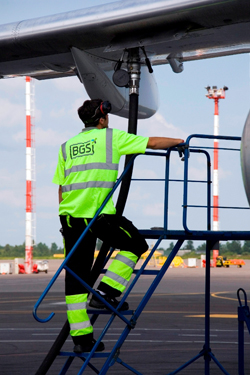 Baltic Ground Services, an international ground handling and aircraft fuelling services provider, is proud to announce the start of new cooperation with yet another major-league client in Poland. Under a year-long contract with the airberlin group, the company will support its new client's operations with fuel supply services at the scheduled airports Warsaw Chopin and John Paul II International (Krakow) as well as at the ad hoc location Katowice airport. In addition, seeking to optimize its external communication, the company has made the decision to change its name into an already commonly used abbreviation BGS.
The German airline airberlin is the second largest carrier in Germany. Based on the conditions of the contract, BGS will supply fuel for all the group's carriers in three Polish airports, with plans to provide more than 1500 tons of aviation fuel a year. 
"The recent agreement with the airberlin group definitely complements our well-established and expanding fueling network in the Polish market. This solid addition to our partners' list certainly proves the quality and reliability of our services. We are very persistent when it comes to developing our presence in the region and each new partnership is a step towards achieving our strategic goals and fulfilling our high-set ambitions," comments Linas Geguzis, the CEO of BGS Poland. "Moreover, anticipating our further development plans, we have decided to change our company's name to be more memorable and easily recognizable. On the grounds,our abbreviation is already commonly used by our clients in internal communication, the official decision to become BGS instead of Baltic Ground Services was obvious and long overdue."
BGS, a part of Avia Solutions Group, supplies more than 100 000 tons of fuel to its clients in Lithuania and Poland annually. Operating in 4 Polish and 2 Lithuanian airports, BGS is fully licensed to provide ground handling and into-plane fuelling services as well as ground transportation of various types of Liquid Dangerous Goods (DGR), including petrol, diesel oil, JET A-1, AVGAS fuel, biodiesel, alcohol and ethanol.