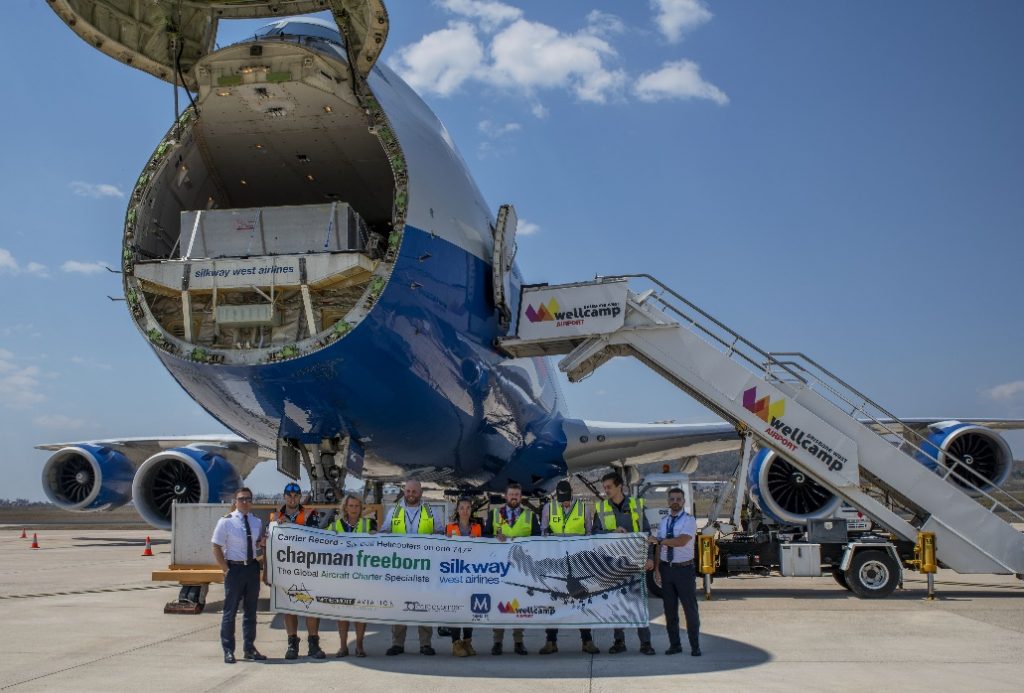 Chapman Freeborn, the global air charter specialist and part of Avia Solutions Group, has assisted with the transportation of six Bell helicopters on a singular charter from Greece to Australia.
Operated by McDermott Aviation, the Bell214ST and Bell214B helicopters arrived back in Australia on the morning of October 18th 2023, landing at Toowoomba Wellcamp Airport (WTB).
The Silkway West Airlines B747-800F was greeted with a ceremonial water salute performed by two fire engines on the runway.
Believed to date back to the 1950s, the water salute was initially used to honour military aircraft upon their return. They are now used to mark a milestone or notable flight, such as the inauguration of a new aircraft, a pilot's retirement or, in this case, an exceptional charter flight.
Michael Amson, VP – Australia at Chapman Freeborn, comments,
"Chapman Freeborn has been involved with the mobilisation and demobilisation of charters for McDermott Aviation for over three years, and during this time we have seen new records broken and benchmarks set.
"If you said to a regular commercial airline that you need to load even just one unit, 8 meters in length, onto a PMC pallet with overhang on all sides, the answer would be a straight 'no'. Yet, here we are showing that it can be done, by having six helicopter fuselages loaded consecutively onto the world's longest widebody freighter aircraft.
Chapman Freeborn have always been committed to ensuring that our customers get the highest level of service and safety, and this record proves that we can provide that. It's a testament to the hard work and dedication of our staff, whose enthusiasm and steadfastness ensures that all of our flights are completed with the utmost efficiency and safety. We take great pride in being able to offer our customers an unparalleled level of service, and this record is just another example of that."
The charter was executed in collaboration with ground handling agent, Menzies Aviation, and freight forwarder, Cargo Connect Global Logistics.
The helicopters were originally transported to Greece in 2021 by Chapman Freeborn using Antonov AN124 aircraft, where they were used in the effort to tackle wildfires in the Euboea, Peloponnese and Attica regions of the country.