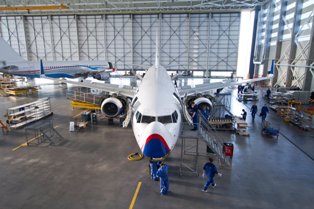 FL Technics, a global provider of tailor-made aircraft maintenance, repair and overhaul services, is proud to announce that the company has successfully passed EASA certification and was granted with an extended Design Organization Part 21J STC approval which allows aviation maintenance service providers to perform major cabin interior modifications.
The newly received Supplemental Type Certificate (STC) extended approval confirms that FL Technics has not only united the team of qualified and competent MRO professionals but also significantly developed its internal procedures allowing to perform both minor and major cabin interior modifications under the EASA Part 21J approval.
The STC Major Modification approval allows FL Technics to perform Major Cabin Changes (Modifications), which involves a change to the cabin, such as monument adjustments (galleys, class dividers, toilets etc), VIP conversions and various avionics upgrades, including Mod S EHS (Enhanced Surveillance Systems), In Flight Entertainment (IFE), Fixed (ELT) Emergency Locator Transmitter installations, etc.
"I would like to thank the entire FL Technics Design team whose long-standing
experience and competence in the aircraft design area allowed us to gain the STC approval," shares his excitement Zilvinas Lapinskas, the CEO of FL Technics. "As both aircraft operators and owners are keen to ensure maximum flexibility in a highly competitive market, the opportunity to make modifications to the existing fleet (rather than invest into new aircraft) is essential. With this in mind, we are happy to offer our current and potential clients in Europe, the CIS and other regions the extended scope of services thus further stretching our one-stop-shop approach."
Currently, FL Technics holds EASA Part 145 (Maintenance Organisation Approval), EASA Part 147 (Maintenance Training and Examination Organisation Approval), EASA Part M (Continuing Airworthiness Management Organisation Approval) and the newly extended EASA Part 21J (Minor and Major Design Modification) certificates.