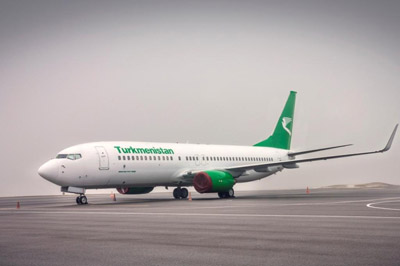 FL Technics, a global provider of integrated aircraft maintenance, repair and overhaul services, is pleased to announce the signing of a Base Maintenance agreement with Turkmenistan Airlines. Under the agreement, FL Technics will provide C-Check support for the carrier's five Boeing 737 NG aircraft. 
The first Boeing 737-800 operated by the national airlines of Turkmenistan has already reached FL Technics premises in Vilnius, Lithuania. According to the contract, FL Technics engineers will provide a comprehensive set of maintenance works covered by the C-Check program. The scope of works will include, but not limited to functional and operational systems checks, repair, overhaul and exchange of internal components, inspection and repair of structure and composite elements, NDT, seat repairs, defect rectification, etc. In addition to the already delivered aircraft, FL Technics will serve four other Boeing 737s operated by Turkmenistan Airlines which are to reach Lithuania later this year. 
"Having won the public tender held by Turmkenistan Airlines in 2014, we are extremely glad to welcome the carrier's first aircraft in our hangars under the contract to service its fleet," shares Zilvinas Lapinskas, the CEO of FL Technics. "We see this cooperation as yet another proof of exceptional quality of our MRO solutions as well as the trust carriers from different world regions place in our services. We endeavour to both meet and exceed our customer's expectations, and hope to expand our cooperation in the future."
Turkmenistan Airlines is the flag carrier of Turkmenistan. Based at Ashgabat International Airport, the carrier flies to over 20 domestic and international destinations across Europe, the Middle East and Asia. At the moment, Turkmenistan Airlines operates an all-Boeing commercial passenger fleet as well as several Challenger-605 and Hawker-125/1000 business jets. The company also operates a fleet of helicopters and transport airplanes.