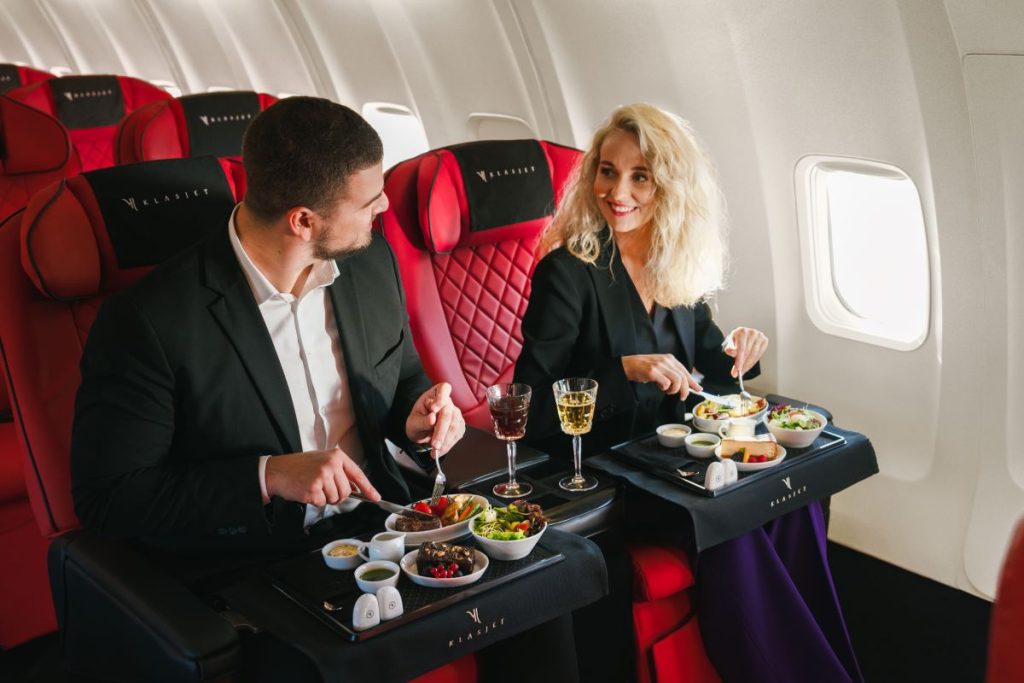 Soaring through the skies at 35,000 feet and savoring a gourmet meal that rivals the finest restaurants on the ground is an enticing blend of luxury and convenience. It is a reality of how private charter aircraft are taking in-flight dining to new heights, offering passengers a culinary experience that's both memorable and unparalleled.
The Rise of Private Charter Aircraft
Private charter aircraft have become increasingly popular over the past decade, as individuals and businesses seek more personalized and efficient travel solutions. According to data from Fortune Business Insights, the global business aviation market was valued at $ 42 billion in 2022 2020, and it's expected to grow further in the coming years. According to Justinas Bulka, the CEO of KlasJet, an exclusive private and corporate private flight charter company, and an ACMI leasing service provider – renowned as a leader in the provision of bespoke group flights worldwide. "One of the key attractions of private charter flights is the ability to tailor the entire journey to individual preferences, and this extends to in-flight dining as well."
Gourmet Dining at 35,000 Feet
In-flight meals were cited by 86% of private jet passengers in a JetNet IQ survey as being crucial to their satisfaction with the flight experience overall. Demand has increased in addition to passenger satisfaction. The demand for private charter flights with gourmet food options increased by 15% in 2022 compared to the prior year, according to a report by Air Charter Service. A big part of advertising fine dining in the skies has been social media. Instagram posts using the hashtag #SkyDining increased by 45% between 2020 and 2022.
Statistics prove the trend
In a survey conducted by Luxury Travel Magazine in 2022, 78% of private charter aircraft passengers considered the availability of customized menus a crucial factor in their choice of charter provider, resulting in private charter companies entering into partnerships with Michelin-starred restaurants such as NetJets, one of the world's largest private jet operators, did in 2021 when it partnered with Michelin three-star restaurant Eleven Madison Park to offer exclusive dining experiences on board.  Innovation in offering reflects the growing importance of the in-flight dining experience as seen in 2020 when Air France introduced its La Première private suites, featuring a dedicated wine cellar stocked with fine wines.
Not only a luxury but a deciding factor
Fine dining at 35,000 feet is not just a luxury but a unique selling point that sets private charter aircraft apart in the highly competitive aviation industry. Nevertheless, as the jet soars higher, the air pressure decreases, and the cabin's humidity levels rise sharply. The relative humidity is under 12%, which is drier than most deserts. Dryness and low pressure together roughly 30% lessen a person's taste buds' sensitivity to sweet and salty meals. Private charters offer an exclusive, passenger-centric experience that appeals to those who demand more than just transportation. With personalised menus, the dining experience is catered to unique tastes and dietary preferences. With advanced notice, passengers can request specific dishes, ingredients, or cuisines, ensuring that their culinary desires are met as chefs take into account how passenger taste receptors are affected in the air due to air pressure, different in-cabin temperatures, and weather when cooking. Collaboration with top-notch chefs to create exclusive in-flight menus elevates the dining experience with dishes crafted by culinary masters who focus on quality, presentation, and taste. High-quality ingredients are essential for creating exceptional in-flight meals and ever more so important when one considers that around 80% of what people think is taste, is in fact smell. Despite the challenges of preparing meals in a confined space, private charter aircraft kitchens are equipped to maintain the freshness and quality of ingredients. In addition to wine or beverage pairing and exclusive partnerships with renowned restaurants and culinary brands, the number of skilled culinary staff employed by private charter companies has grown by 20% over the last three years, reflecting the increased emphasis on in-flight dining.
"Klasjet values each client and prepares meals according to religious laws and rules, as is the case in preparing kosher and halal food requirements. Occasionally, we face the pleasurable challenge of fulfilling precise client requirements, such as when a unique dish or kind of food must be found at a local shop and then pass through airport screening. On these occasions, we take pride in being able to fulfill those wishes. We also have our own procedures that include detailed instructions of how to prepare food, if necessary, and we manage it and our clients come back to us satisfied," notes Bulka. Also, sometimes clients are shy and don't want to order better meals, so in these instances, we suggest some dishes from the local menu and they are also satisfied. We need to be very careful with sports teams, which are about 50% of our clients," Bulka says by way of explanation, "They have a very strict menu, and it must be approved by their travel agent, doctor, and cook. Nevertheless, sometimes, even sports teams are allowed to take a sweet after glory at the Champions League or another important victory."
As private charter operators continue to raise the bar in providing gourmet cuisine, they solidify their position as the preferred choice for travelers who seek exceptional experiences, unmatched customization, and the utmost in privacy and efficiency. KlasJet, as part of the Avia Solutions Group family, the world's largest ACMI (Aircraft, Crew, Maintenance, and Insurance) providers, will continue to deliver solutions in the competitive private charter aircraft industry. In an era where time is a precious commodity, and discerning travelers crave personalized luxury, private charter aircraft continue to soar above the competition.